Parenting, whether solely or alongside someone, is an adventure filled with lots of joy, laughter and fulfillment. However, it is often emotionally taxing and cumbersome causing weariness of the body, mind, and soul. "Hey Mom, Remember to Take Care of You" is an insightful and empowering book that promotes self-care and mental wellness.
It utilizes personal stories, reflective questions, and other activities to engage the reader. An interactive schedule is included with 1 day for reading, 5 days for journaling, and 1 day for introspection. Moms are encouraged to read the book in a group setting or with a reading partner. Also, on my website are meditation resources that will accompany the book. I believe in the power of our testimonies, so I encourage readers to get a reading partner or start a book club. My hope is that in all that we do as parents, we will learn to take care of ourselves.
It took some time with herself and soul searching to get to a place of freedom and to truly begin pursuing her purpose. From there, she revamped her organization, Women On Purpose Inc. and started a podcast, but she realized that those were only the beginning of the work that she was meant to complete. Eventually she decided to pick up the book she had started writing four years ago. That's when everything started to come together.For Tanna, this time around felt different, she was on a mission to finish what she had started, and she did.
Tanna replaced some of her old titles, with new ones that gave her purpose and drive. She followed her heart, and now she is empowering others to live purpose-filled lives by finding meaning and hope in the face of daily challenges.
WayToParent Magazine had the honor of sitting down with Author Tanna and discussing her road to self- discovery and her future plans.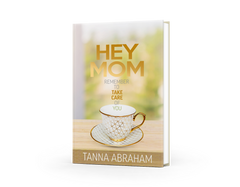 Can you tell our readers more about your book and what you think sets the book apart?
I'm really excited about my book, it's my first. The book is titled, Hey Mom, Remember to Take Care of You. It releases on April 16th and can be purchased on Amazon or through my website at tannaabraham.com. In the book I share important lessons that I've learned throughout my parenting journey.
I must admit, the book was hard to write at times because it required me to take myself to some very hard times in my life that I didn't want to revisit. As hard as it was, I'm glad I did it. The highs and lows of my story are filled with so many lessons that I am continually embracing in my future and I'm sharing with others in this book. I was able to get really creative with this book. It has an interactive schedule which includes 1 day for reading, 5 days for journaling, and 1 day for introspection with coloring pages.
What keeps you going when things get tough in your business?
The biggest thing is getting out of my own way. Oftentimes, I can be my own worst enemy. When I was approaching the end of the book, I felt like I had to drag myself across the finish line. I was having this internal battle with myself, wondering if the book was good enough. Would people even buy it? I had to push through those thoughts daily. Secondly, I would say have a support system around you. When I was discouraged, frustrated and even scared, I had a group of people around me encouraging me, holding me accountable and keeping me lifted.
I wouldn't be releasing this book if it wasn't for their love and support. Lastly, don't quit. After writing the book, I had a horrible publishing experience. I knew I came too far to quit but I was emotionally and physically exhausted. Each day I would cry, then wipe my tears and continue my battle. Sometimes you have to readjust your strategy and that's okay, just don't stop. Someone is waiting for you and what you have to offer.
Talk about your biggest failure you've had, and what you learned from it?
Honestly, I don't think failure exists, just poor decisions and missed opportunities of which I have tons. I think the biggest is quitting too soon. There were many times in my life where I slowed down, dumb myself down and even quit. I allowed people's opinions of me to discourage me and hinder me from moving forward in my purpose.
Over the years, I learned that following purpose requires you to be unapologetic and fully secure in who you are. I also had to learn to not allow the difficult seasons of my life to deter me. I had to rid myself of thinking if it's not easy wasn't meant to be, that's far from the truth.
Life is a journey filled with many ups and downs but from it a beautiful testimony arises. Lastly, I learned that everyday I wake up is another opportunity to start again.
What's next for you?
For so long I didn't take the time to enjoy the moments in life because I was always asking that question. I'm trying to do better at enjoying where I am, celebrating the wins, assessing the opportunities for growth and just living in the moment. I'm also embracing my journey, empowering others through my podcast and my organization which is my passion. I will say that I am in the process of writing another book which I hope to release in October.
We would like to thank Tanna Abraham for letting us share her story, continue to follow Tanna on her social media channels :
FB@ Tanna.Abraham IG@ tannaabraham
TO BE FEATURED PLEASE CLICK/ VISIT OUR "GET FEATURED" LINK LOCATED ON THE HOMEPAGE OR MENU.