Life experiences have a way of excelling and pushing you to the limit and if anyone knows that it is Mrs. Umeka Wright. Wife, mom, counselor, and blogger are just a few of the accolades under Umeka's belt. Married 15 years to her "Happily Ever After" and blending their families made her a mother of six, on January 2006 on New Year's
Day! It was the start of a new beginning for herself and her family. As a proud native and resident of Dallas, Texas she works as a school counselor specializing in adolescent and teen substance abuse prevention and interventions. It has always been her passion to help others, especially children. Being an educator for ten plus years and a former caseworker for Child Protective Services counseling has always been in her blood.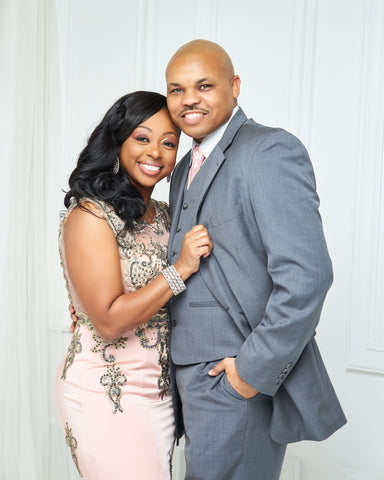 Like many, her blended family journey started off so rocky and bumpy that it was very hard to see the light at the end of the tunnel. She knew early on that the chaos in their lives was unhealthy for everyone involved, especially the children. Peace needed to be created in the middle of their storm. In 2012, she started her blog, "Blended & Loving It." For Umeka, blogging allowed her to release her emotions, making her not only a better mom but a better bonus mom too. This gave her the ability to handle each situation with a level head and sense of compassion. She started out writing anonymously because she did not want to add fuel to the already blazing fire. The blog was her way of creating her own light and attempting to look for the positive within their blended family, and also a way to stop focusing on the negative.
It was not until late 2018 when God provided her with a clear direction and path to take with the "Blended & Loving It" platform as a whole. That's when everything changed for the blog, she was no longer anonymous, and she began to focus more on encouragement and inspiration rather than the negativity that surrounds a blended family. Shortly after that God revealed the need to write a devotional for blended families, "Blended and Loving It Thirty Day Devotional." This platform has something for everyone at any stage of parenting, and for all mothers, bonus moms, bio moms, and soon-to-be bonus moms to collaborate, motivate, educate, and encourage one another.
I asked Umeka a few questions about her goals and visions for her blog and the future:
What are your future plans and goals for the blog?
While things have slowed down a bit with the blog, I will continue to use the blog to encourage and inspire blended families. We are in the startup phase of offering counseling to blended families and premarital counseling to couples that will be blending their families. Therefore, the blog will serve as a monthly newsletter to provide practical tips and encouragement for blended families.
What advice would you give to women that are about to have a blended family or that may already have one and are struggling with making it work?
The trials and tribulations of blending your family will consume you, your thoughts, and your family if you allow it. Blending your family will take time, and every family will require something different. Do what is best for your family and be your own blended family goals. Focus on your home and the children involved. You can only control what takes place within your household, so don't focus on what is going on outside of your home. When you took those vows you took them for better or for worse, when you married him you married the children therefore make a vow to work hard at creating and building a genuine relationship with the children. Communication is very important in any relationship, but it is extremely important in a blended family. Host family meetings so everyone in the family has a voice and hear and receive the same information to eliminate assumptions and confusion. I must say, God was truly my saving grace, I prayed day in and day out, longing for peace. Prayer really works, continue to pray for your family, over your family, with your family, and pray for EVERYONE involved. Yes, pray for your exes.
Do you believe they will follow in your footsteps of entrepreneurship?
I do believe that they will follow in our footsteps of entrepreneurship, their generation is the generation of go-getters, creators, and self-starters. We have seen so many leadership qualities within them already from selling clothes to local second-hand retailers, to photography, braiding hair, and anything else they can come up with.
As a mother and a wife, what do you hope for the future of your children?
I pray that my children will continue the relationship that we have all worked so hard to build and remember that regardless of last names and DNA we are family. I also pray they continue down the path of success and continue to work hard to be productive citizens in today's society.
Waytoparent would like to thank Umeka for allowing us to interview and give us insight to making it work in a blended family!